There're two approaches towards monitoring programs installations (in order to be able to perform clean removal). The first old school way - using of registry and file system snapshots before and after installation, then comparison of these 2 snapshots. The second, the one that is used in Uninstall Tool - real-time monitoring using Install Tracker (Installation Monitor). This is the most advanced and modern way and here's why:
Speed. No need to wait for creating/comparing snapshots, a user simply installs the program the way he used to. A couple of mouse clicks may be required in the end of installation.
Accuracy. Snapshots can be inaccurate because legitimate data of other programs can trap into the snapshot (programs that write to registry/file system at the time you install an app). This situation is impossible when using Install Tracker as it's using kernel mode driver that tracks only 'our' processes and does monitoring of them.
Wie man eine Installation überwachen kann
Dies kann auf drei verschiedene Arten geschehen: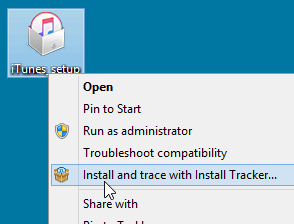 Über das Rechtsklick-Menü für eine Setup-Datei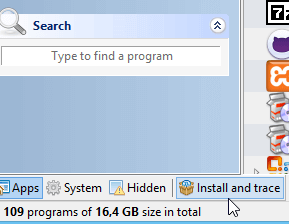 Über das Ende der Toolbar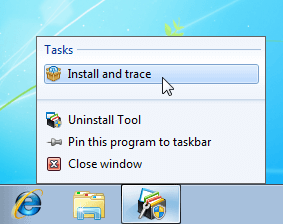 Über Symbolmenü der Windows-Taskleiste
Normale Durchführung der Installation während Monitoring durch das Uninstall Tool. Das Tracing wird automatisch beendet, wenn alle Prozesse abgeschlossen wurden, ansonsten müssten Sie es manuell beenden, wenn die Installation abgeschlossen ist.
Nach erfolgreicher Installation erscheint das neue Programm in der Liste mit einer 'Traced' Markierung. Das bedeutet, dass alle getraceten Dateien von Ihrem PC entfernt werden (in Uninstall Wizard) während der Deinstallation nach der Durchführung des Standard-Deinstallationsprogramms (oder bei der Verwendung der erzwungenen Entfernung feature):