Batch Removal of Programs
Activate batch mode by holding the Ctrl key and select required apps by clicking on them one by one (or hold the Shift key and use keyboard Up/Down keys to select items next to each other).
Batch Removal uses powerful Uninstall Wizard to locate and delete leftovers.
This also works for Startup Programs.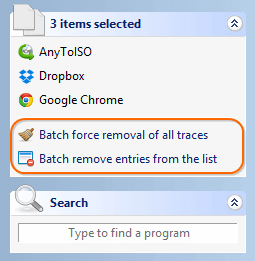 How it works
Batch Force Removal, as well as regular Force Removal will not run associated uninstallers and will only scan for leftover file system/registry items and display them in a merged list that requires a precise review.
Batch Remove Entries from the list only removes selected items from Windows Registry without removing any file system/registry items belonging to selected programs. Use this function carefully and only for obsolete or invalid list entries.
Batch Uninstall is currently limited to uninstalling Microsoft Store Apps.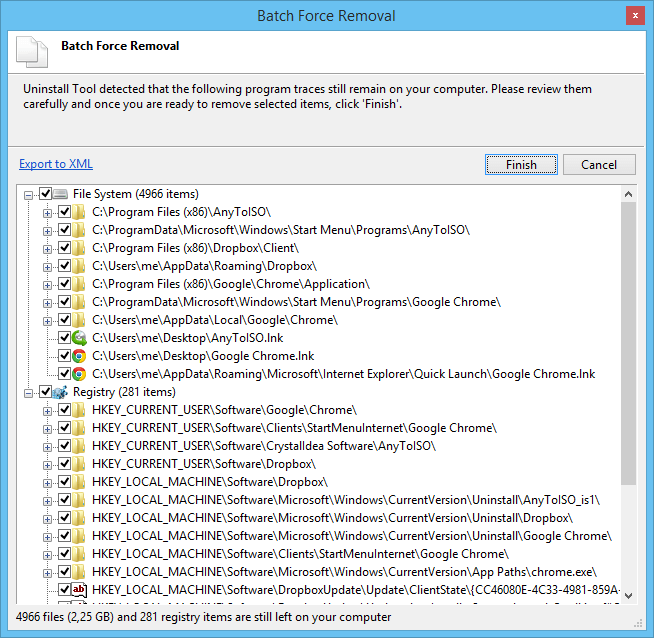 If the installation was previously monitored with Install Tracker, Uninstall Wizard instantly displays the list of monitored leftovers and guarantees 100% clean removal of the app.
When a file or folder is currently in use by the system, Uninstall Wizard schedules removal of such items on the next Windows reboot.
When some processes associated with the app to be uninstalled are still running, Uninstall Wizard offers to terminate them for correct removal of the app.