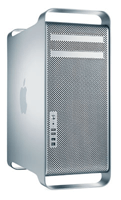 Classic Mac Pro 5,1 (or simply cMP, also 4,1 upgraded to 5,1) is now considered by Apple as vintage. It's pretty disappointing considering how capable and upgradable these machines still are. Installing Windows is no longer officially supported, but it's completely possible though not quite easy.
Another challenge is that macOS Mojave 10.14 now implies using Metal-capable GPU while most of them are not able to display Apple boot menu (which you normally see holding the Option key) required to boot into Windows. Basicaly your screen remains black until macOS is loaded. Well, some EFI bootable cards that support boot menu exist but they are released almost 10 years ago and are really outdated. What is more, none of them supports displaying of boot menu with 4k 60hz monitor connected.
This guide is for those who want macOS Mojave + Windows 10 + modern GPU (in our case Sapphire Radeon Pulse RX 580 8GB).
Continue reading