Modern version of iTunes for Windows is not only a media player/library and iDevices synchronization tool. It's functionality goes further and the app itself is much bigger in size. It installs other Apple software during its installation and registers several services and start-up items. "Apple Application Support", "Apple Mobile Device Support", "Apple Software Update", "Bonjour" apps are always installed together with iTunes.

Estimated amount of file system and registry items
How to perform complete removal of iTunes using Uninstall Tool:
Tip: For 100% clean and quick removal make sure to install iTunes using Install Tracker (Installation Monitor).
1. Select "Uninstall" or "Modify" for iTunes program in the apps list.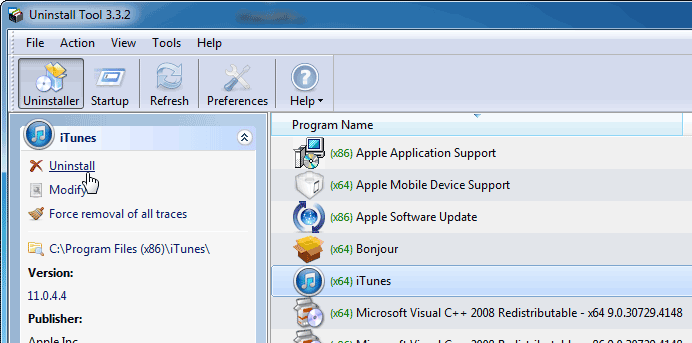 When iTunes was installed with Install Tracker, Uninstall Tool is able to detect dependent apps and perform clean removal of them after default uninstall program.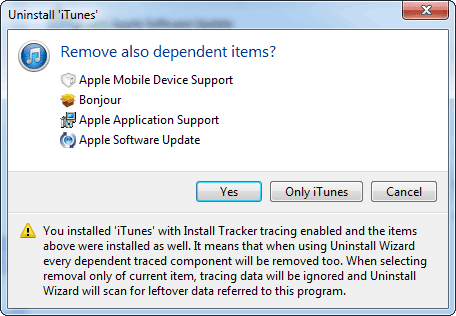 2. After default uninstall program finished its job, Uninstall Wizard will perform quick and thorough scanning and display the list of leftover traces: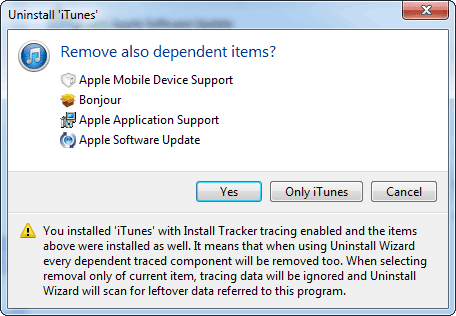 Review them and Finish installation by removing them. Files that are currently running or in use by the system will be removed after the next reboot (by Uninstall Wizard).