We're happy to announce that the most recent version of Macs Fan Control fully supports new Apple Mac Studio 2022 mini desktop computer.
Mac Studio has 2 exhaust fans that are treated as a single fan, which means their speed (RPM) must be always synchronized (like in iMac Pro). Macs Fan Control displays individually CPU efficiency/performance cores as well as GPU clusters temperatures. For convenience there's CPU Core Average virtual sensor that is calculated as average of all cores. Similarly there's GPU Cluster Average sensor for all GPU clusters.
Fan speed and noise
We've got two interesting observations:
On both M1 Max & Ultra Mac Studio idle fan speed is locked at around 1315 RPM which is considerably higher than specified minimum of 1100 RPM

No matter how hard and how long you push both CPU and GPU at the same time, fan speed never gets higher! Confirming video by Max Tech
Lots of users complain on relatively high idle fan noise when Mac Studio is close to a user (see related hot topics on MacRumors: Mac studio fan noise - it's going to be one of the loudest Macs at idle and Mac Studio Max - it's not that quiet). We recommend setting fan speed at 1100 RPM which is considerably less audible and according to our observations does not affect the cooling performance.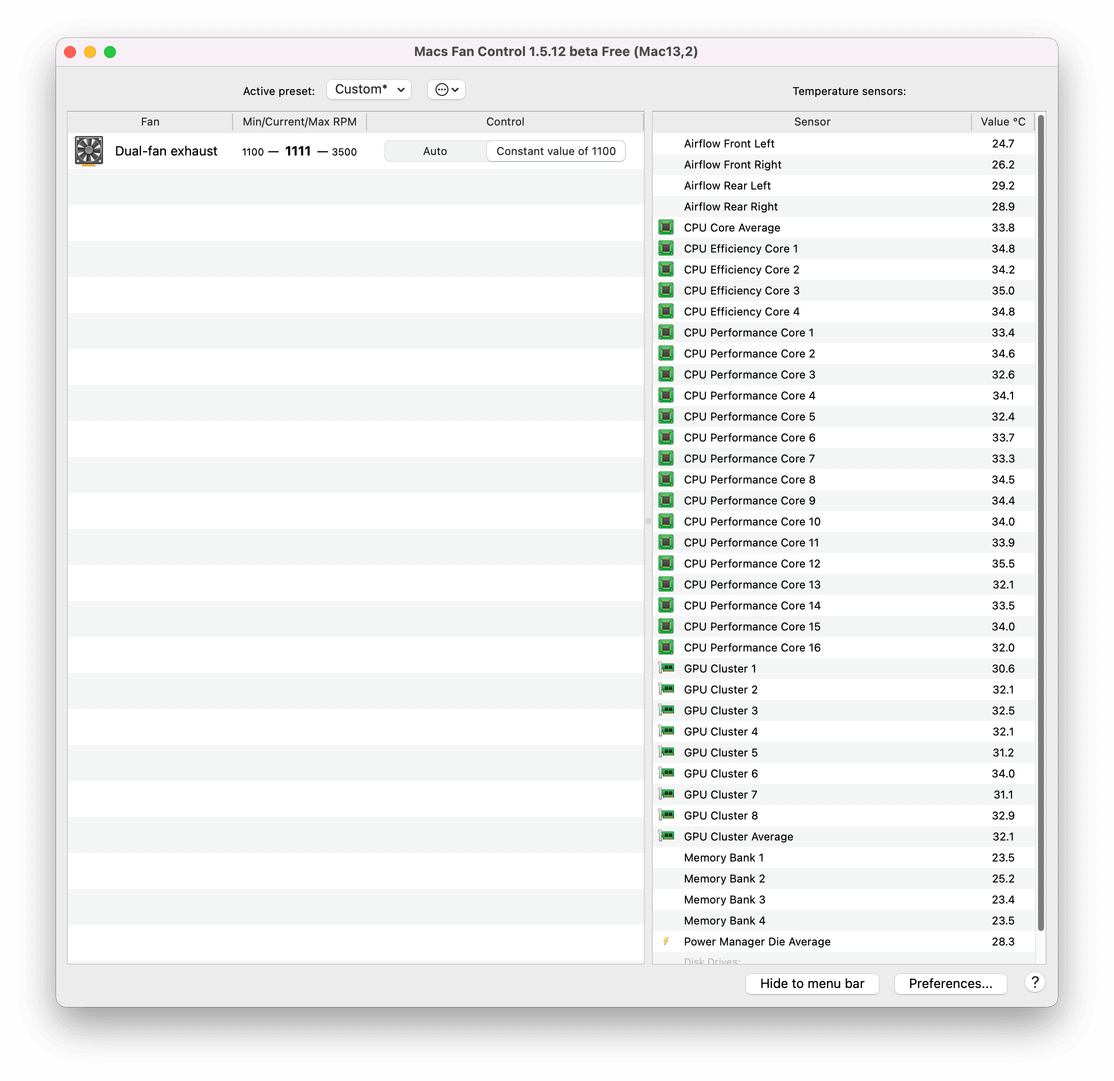 Macs Fan Control running on M1 Ultra powered Mac Studio
One more thing: MacBook Pro 14/16" is also running the same M1 Max chip and has zero-RPM fan mode with no fan spinning while Mac Studio features much serious heatsink (even copper for M1 Ultra) and doesn't have zero-RPM fan mode. We think it's quite strange and we're planning to do some tweaks in the app in the next update (v1.6).